You've resolved to eat healthy in the new year but now that it has arrived, you're concerned about finding the time and affording the ingredients needed to craft a nutritious but delicious meal. Though the thought of following new recipes each night can sound overwhelming, the good news is that there are many quick and easy meals filled with all of the vitamins and protein you're looking for. Moreover, eating healthy doesn't need to break the bank. There are plenty of meals that require minimal ingredients – some of which you most likely already have right in the pantry.
As you get started on your quest to eat healthier this year, consider these three hearty and nutrient-rich meals to get you started:
1. Quinoa and Chipotle Chicken Bowl
Are you a fan of tacos and burritos? If so, you'll love this healthy twist on a chipotle chicken burrito from Eating Well. With all of the same ingredients – except for the tortilla burrito shell and the rice – this meal packs all of the same rich and zesty flavor of your Mexican favorites while making for a filling and nutritious dinner.
Ingredients:
1 tablespoon chipotle peppers, finely chopped
1 tablespoon extra-virgin olive oil
1/2 teaspoon garlic powder
1/2 teaspoon ground cumin
1 pound chicken breast, boneless and skinless
1/4 teaspoon salt
2 cups quinoa, cooked
2 cups romaine lettuce, shredded
1 cup pinto beans, rinsed
1 avocado, diced
1/4 cup salsa
1/4 cup shredded cheese
Lime wedges, for serving
Directions
Heat oven to broil and in a small bowl, combine chipotle peppers, oil, garlic powder and cumin. Season chicken with salt and then broil on prepared baking sheet for 9 minutes. Flip the chicken and brush with chipotle glaze. Continue broiling for 9 more minutes. Remove chicken from oven and slice on cutting board.
To make the burrito bowls, combine 1/2 cup quinoa, 1/2 cup chicken, 1/2 cup lettuce, 1/4 cup beans, 1/4 avocado, 1 tablespoon pico de gallo and 1 tablespoon cheese. Serve each bowl with a lime wedge.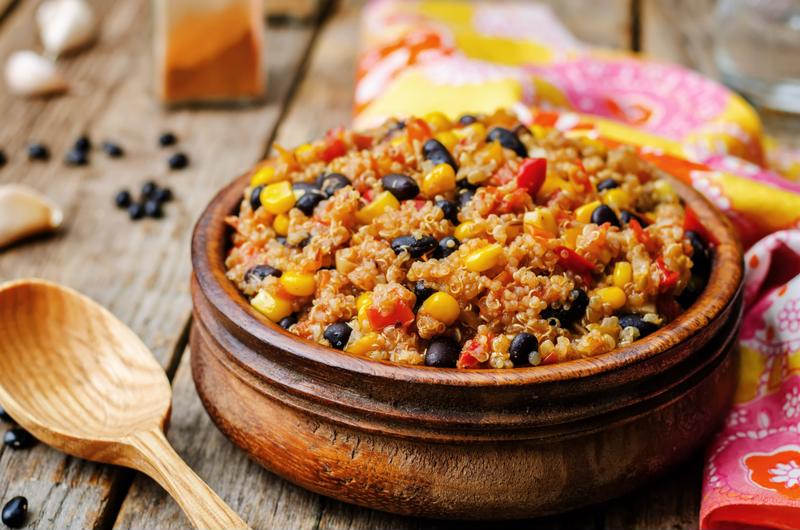 2. Zucchini Noodles with Cilantro Lime Shrimp
There's nothing like a hearty pasta dinner, but did you know there's another way to enjoy noodles without all of the carbs? By spiralizing vegetables such as zucchini, you can create veggie pasta. When topped with the mouth-watering honey, lime and cilantro sauce, you can't even tell the difference.
The next time you're in the mood for Italian with a twist, pick up some shrimp and give this recipe from Closet Cooking a try:
Ingredients:
1 pound shrimp, shelled and deveined
3 tablespoons olive oil, divided
4 cloves garlic, minced
1 pinch red pepper flakes
1/4 cup vegetable broth
1 teaspoon honey
Juice of 1 1/2 limes
3 medium zucchinis, spiralized
Salt and pepper, to taste
2 tablespoons cilantro, chopped
Directions
In a medium bowl, combine 2 tablespoons olive oil, garlic, red pepper flakes, 1 tablespoon cilantro, honey, lime juice and zest. Add the uncooked shrimp and toss to coat. Allow shrimp to marinate for 15 to 20 minutes and then drain and reserve marinade. In a pan over medium-high heat, cook shrimp with 1 tablespoon olive oil. Heat for 2 minutes, flip and add the reserved marinade. Continue cooking shrimp for 1 more minute.
Add vegetable broth to the same pan and simmer for 2 minutes. Heat zucchini noodles, cooking for about 2 minutes until tender. Add in the shrimp, top with salt, pepper and cilantro and mix well. Enjoy warm.
3. Chickpea Burgers
When you're in the mood for a hearty meal, why not make these flavorful chickpea burgers? Packed with flavor and spices, these chickpea burgers deliver a lot of protein and require few ingredients. Pair this recipe from Nutrition Twins with sweet potato fries – the healthier version of French fries. Whole-wheat English muffins make for a healthy burger bun substitute.
Ingredients:
1 medium carrot, grated
1 (19 ounce) can chickpeas
1/2 teaspoon lemon zest
1 1/2 teaspoons ground cumin
1 1/2 teaspoons ground coriander
1/4 teaspoon salt and pepper
1 large egg
2 tablespoons flour
2 teaspoons canola oil
Directions
In a bowl, combine lemon zest with carrot. Rinse and drain chickpeas, then add them to a food processor with the spices, salt and pepper. Pulse until the ingredients create a paste-like mixture. Add carrot, lemon zest, egg and flour, continuing to process until everything is well combined. Use your hands to form 8 patties.
Pour oil into a frying pan with the heat on medium-low. Once heated, add chickpea patties to pan and cook for 2-3 minutes on each side until they are golden brown and cooked through. Add cheese – if desired – with 1 minute remaining. Serve patties on English muffins with sliced tomato and lettuce for toppings, along with ketchup and mustard.
Let these three recipes be your inspiration to continue to cook and eat healthy all year long!
Comments
comments